Save time and money on repairs with Quick Patch®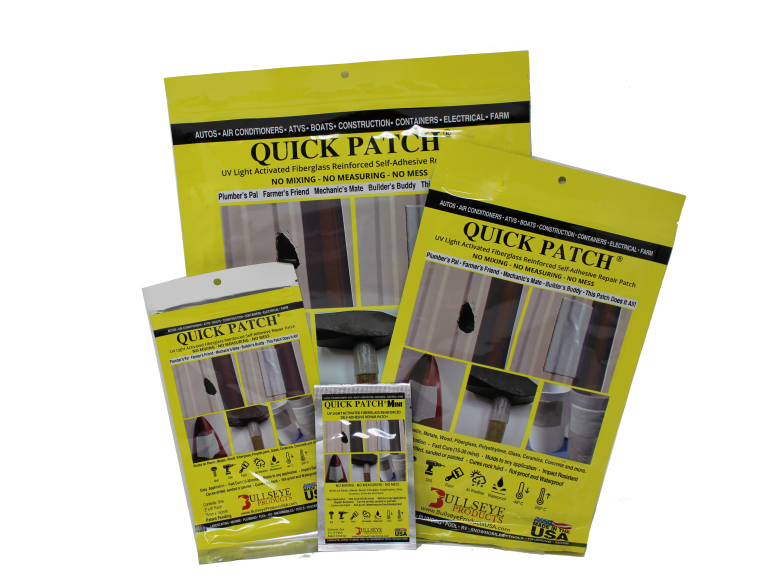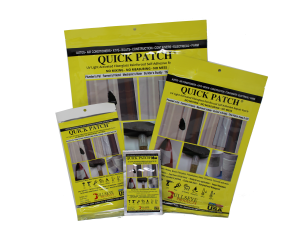 With Quick Patch repair patch you simply peel it and seal it. No special tools are needed!
A one-of-a-kind unique product, Quick Patch comes out of the package as pliable as a Band-Aid. Ten minutes later with UV light it transforms into a hard patch that you can sand, paint or drill. The many uses you'll find for this patch will save you time and money on many of your normally costly equipment repairs and fixes.
Quick Patch can be used on almost any hard surface such as piping, glass, ceramics, concrete, fiberglass, metal, wood, polyethylene and more. When using Quick Patch outdoors the sun cures the patch, indoors you'll need a UV flashlight. Quick Patch cures rock hard, resistant against many chemicals, solvents and oils, is rot-proof, waterproof and is also impact resistant.
This patch is ideal for plumbers, farmers, mechanics, builders and many others.  Quick Patch can be used to repair and maintenance roofs, steps, tanks, pipes, lines, gutters, switch boxes, bumpers, radiators, rusted areas, exhaust leaks, fuel tanks, boats, jet skis, canoes, and much more!
Non-flammable, non-toxic and the adhesive will not harm your skin. Quick Patch is fiberglass reinforced polyester with excellent adhesion properties for long lasting repairs.
Now available in Custom Sizes! Up to 3 feet wide and up to 30 feet long. Size possibilities are endless, minimum order quantities apply. Call Dick Simon for more information at 302-231-2624.
Applying Quick Patch Repair Patch is as easy as 1…2…3…
Surface should be cleaned, dry and free of any contaminates. Cut Quick Patch into any size you want, without exposing to UV / Sunlight. Place remaining material back in protective bag.
Remove white backing tape to expose the sticky resin. Apply Quick Patch to repair area with sticky side down and press firmly.
Apply patch then remove transparent film backing on the other side after application and expose to UV or Sunlight. Curing time depends on UV intensity, between 5 minutes (sunny) and 50 minutes (cloudy) or use a UV light indoors with a minimum of 51 lumens.
Details:
Easy application – just cut, peel and stick
Flexible and Waterproof
Weather and UV Resistant
Temperature Resistant from -40°C to 200°C
Extremely durable reinforced polyester/plastic
Bonds to all hard surfaces except Polypropylene (PP)
Can be drilled, tapped, sanded and painted in less than an hour
No shrinkage or expansion during the application or after curing
Fast curing (starting at 5 minutes depending on UV intensity)
Curing Mechanism: Ultra Violet (UV), Natural or UV Lamp
Fire rating Class 1
Dielectric strength 9 kV/mm, Arc resistance > 180 sec., Tracking resistance > 600 V and Insulation resistance 10 to the power of 13 ohms
Applications:
Industry: Repair and maintenance roofs, steps, tanks, pipes, lines, gutters, switch boxes, etc.
Automotive, Truck & Transport: Bumpers, radiators, rusted areas, exhaust leaks, fuel tanks and lines, box bodies, headlamp housings, all kinds of plastics and body components
Hobby/Sport/DIY: Jet skis, canoes, boots, surf boards, prototyping, modeling, windows, doors, fences, roofs, drainage lines, pools, spas, garden equipment, sanitation systems, bail tanks and lines, sporting equipment and various other surfaces like GRP, wood, metal, glass, ceramics, concrete and plastics

Looking to purchase Quick Patch retail online? Check out http://buyquickpatch.com