Max Power Drain Unclogger
Thermo-Chemical Drain Opener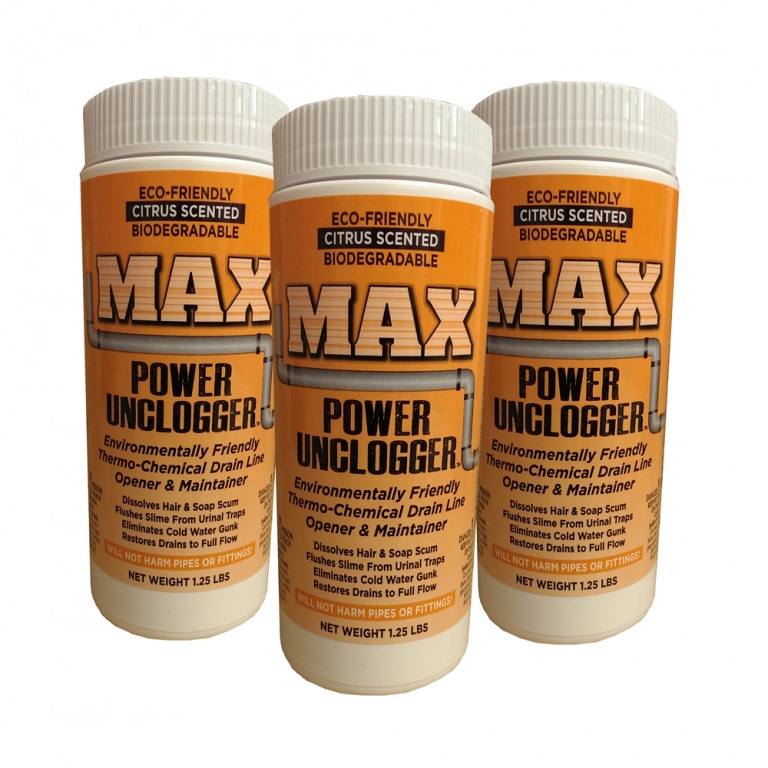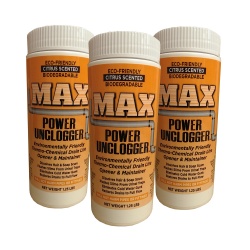 Max Power Drain Unclogger dissolves hair and soap scum and flushes slime from urinal traps. Eliminates cold water gunk and restores drains to full flow. Max Power Drain Unclogger is a citrus scented Thermo-Chemical drain line maintainer and opener that works by destroying the main cause of slow moving and blocked drains. By eliminating hair, slime and soap scum blockage, other forms of drain debris are prevented from becoming trapped and entangled. Will not harm pipes or fittings and is safe for use in Septic Tanks. Safe for use in Federally Inspected Meat and Poultry facilities too. Max Power Drain Unclogger is environmentally friendly.
How to Use Max Power Drain Unclogger:
Good safety practice should include the use of rubber gloves, protective clothing, and eye protection when using Max Power Drain Unclogger or any other chemical.
Remove any excess water.
While holding container at arm's length, add one capful of Max Power Drain Unclogger.
Slowly trickle water into drain.
Let stand 60-90 seconds.
Repeat until drain is free-flowing.
Flush well with water.
Never position head over drain opening. Do Not use hot water or other chemicals.
Details:
Mild citrus aroma
Thermo-Chemical drain line maintainer and opener
Works by destroying the main cause of slow moving and blocked drains
Eliminates hair, slime and soap scum blockage
Dissolves hair and soap scum
Flushes slime from urinal traps
Eliminates cold water gunk
Restores drains to full flow
Will not harm pipes or fittings
Safe for use in Septic Tanks
USDA Authorized for use in Federally Inspected Meat & Poultry Facilities
Use In:
Showers
Bathtubs
Sinks
Urinals
Floor Drains
Drinking Fountains
Condensate Drains
X-Ray Sinks
Recommend For:
Schools
Industrial Plants
Nursing Homes
Office Complexes
Veterinarians
Hotels/Motels
Hospitals
Health Clubs