A UV Light Activated Fiberglass Reinforced Self-Adhesive Repair Wrap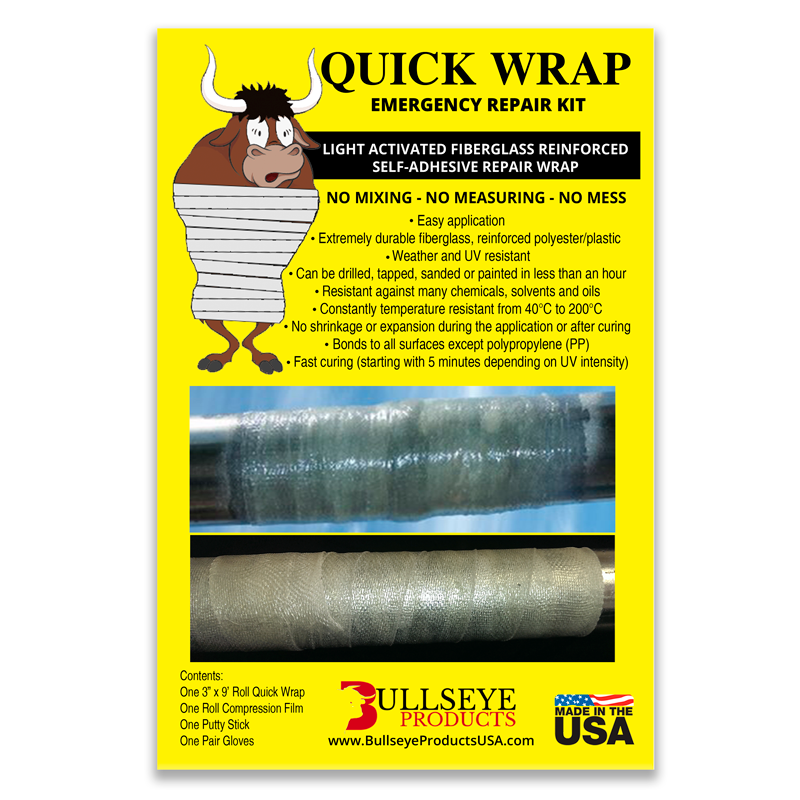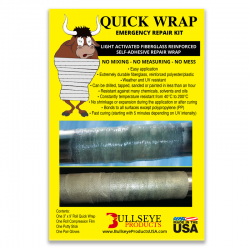 Quick Wrap is a very unique, easy-to-use UV or sunlight activated, self-adhesive repair wrap that is 3 inches wide by 9 feet long. It is fiberglass reinforced polyester with excellent adhesion properties for long lasting repairs. Rubber gloves and proper eye protection must be used when applying Quick Wrap. Quick Wrap adheres to most hard surfaces like fiberglass, wood, plexiglass, metals, and PVC and ABS conduit piping. Quick Wrap works in minutes to repair many types of repair needs. Quick Wrap can be drilled, tapped, sanded and painted in less than hour after applying. There is no shrinkage or expansion during application or after curing with Quick Wrap. It is also weather and UV resistant, temperature resistant and fast curing.
How to Use Quick Wrap:
Surface should be clean, dry and free of any contaminants. Using sandpaper, file or grinder, prep the surface to create a rough profile. Wipe clean with a dry rag.
Remove contents from package. Keep Quick Wrap from being exposed to UV/sunlight.
Knead putty until uniform in color. Using small pieces, apply putty to holes/cracks, or use putty to transition joints or other obstacles.
When ready, apply Quick Wrap as a single wrap or use a spiral technique with 50% overlap to develop multiple layers.
Apply 4 layers of clear plastic compression film over the entire composite repair, wrapping in the same direction as the Quick Wrap was applied. Remove compression film after repair has cured (5-50 minutes). Curing times depend on UV intensity, between 5 minutes (sunny) and 50 minutes (cloudy).
Details:
3″ wide x 9′ long
Easy application
Extremely durable fiberglass, reinforced polyester/plastic
Weather and UV resistant
Can be drilled, tapped, sanded or painted in less than an hour
Resistant against many chemicals, solvents and oils
Constantly temperature resistant from 40°C to 200°C
No shrinkage or expansion during the application or after curing
Bonds to all surfaces except polypropylene (PP)
Fast curing (starting with 5 minutes depending on UV intensity)
Ideal For Use On:
Industry: Repair and maintenance of tanks, pipes, lines, gutters, switch boxes.
Home: Windows, doors, steps, fences, roofs, drainage lines, pools, spas, garden equipment, sanitation systems, bail tanks and lines.
Automotive, Truck & Transport: Bumpers, radiators, rusted areas, exhaust leaks, fuel tanks and lines, box bodies, head lamp housings, all kinds of plastics and body components.
Hobby/Sport/DIY: Jet skis, canoes, boats, surf boards, prototyping, modeling, sporting equipment.
Surfaces like GRP, Wood, metal, glass, ceramics and plastics.