The latest rust prevention and coating technology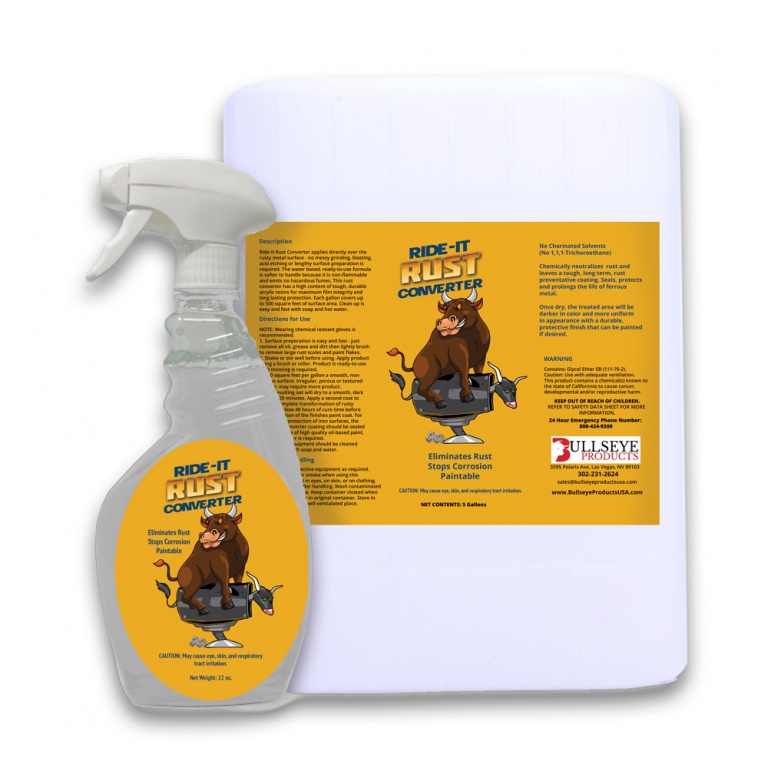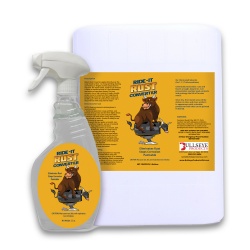 Ride-It Rust Converter applies directly over the rusty metal surface – no messy grinding, blasting, acid etching or lengthy surface preparation is required. The water based, ready-to-use formula is safer to handle because it is non-flammable and emits no hazardous fumes. This rust converter chemically neutralizes rust and leaves a tough, long term, rust preventative coating. Seals, protects and prolongs the life of ferrous metal. Once dry, the treated area will be darker in color and more uniform in appearance with a durable, protective finish that can be painted if desired. Each gallon covers up to 500 square feet of surface area. Clean up is easy and fast with soap and hot water.
How to Use Ride-It Rust Converter:
Surface preparation is easy and fast – just remove all oil, grease and dirt then lightly brush to remove large rust scales and paint flakes.
Shake or stir well before using. Apply product using a brush or roller. Product is ready-to-use – NO thinning is required.
500 square feet per gallon on a smooth, non-porous surface. Irregular, porous or textured surface may require more product.
The resulting coat will dry to a smooth, dark finish in 20 minutes. Apply a second coat to ensure complete transformation of rusty surfaces. Allow 48 hours of cure time before the application of the finishes paint coat. For long-lasting protection of iron surfaces, the cured rust converter coating should be sealed with two coats of a high quality oil-based paint. No other primer is required.
Application equipment should be cleaned immediately with soap and water.
Details:
The latest rust prevention and coating technology for maximum corrosion protection for all iron and steel surfaces
High content of tough, durable acrylic resins for maximum film  integrity and long last protection
Applies directly over the rusty metal surface – no messy grinding, blasting, acid etching or lengthy surface preparation is required
Treated surfaces are primed and ready for paint in 24 hours, or may even be left unpainted
Provides and ideal basecoat for epoxies, urethanes, chlorinated rubber,  and enamel paints
The water based, ready-to-use formula is safer to handle because it is non-flammable and emits no hazardous fumes
Each aerosol can covers up to 25 square feet of surface area, each gallon covers up to 500 square feet of surface area
Permanent protection against rust – lasts up to 5 times longer than conventional primers and paints
Eliminates laborious preparation – application is  made directly over rusty surfaces
Saves time and money – restores corroded metal for longer life and reduced maintenance
Ideal For Use On:
Automotive Restoration and Truck Fleet Maintenance
Industrial Machinery and Construction Equipment
Structural Components
Utility Enclosures
Oilfield Rigs
Safety Devices
Recreational Gear
Farm Implements and Agricultural Machinery
Irrigation Piping