Rapid Repair Concrete Repair
Quick repair of concrete cracks and holes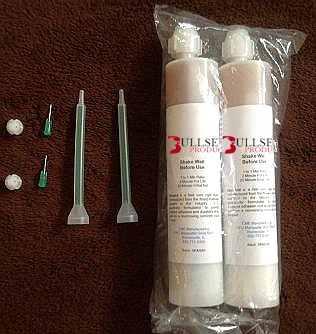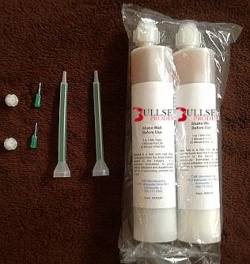 Rapid Repair is a very rapid set, high strength ultra low viscosity concrete repair material. This two part hybrid Urethane system is designed for rapidly rebuilding deeply spalled or damaged concrete surfaces, broken control joints and repairing concrete rapidly, even in cold conditions. This product is especially useful in areas where "Down-time" is limited and a facility must operate around the clock. Rapid Repair concrete repairs are put back in service in minutes after the installation is made. Rapid Repair provides critical crack repair while providing same day overlay repairs. Rapid Repair Concrete Repair is very low in viscosity allowing the product to deeply penetrate into the concrete better than epoxy and does not become brittle. The product is unique in that it can repair spalls of most any size at below zero temperatures. Rapid Repair is ideal for damage repair to concrete surfaces that will be coated and/or overlayed. The product can be ground smooth and becomes almost invisible when properly coated.
How to Use Rapid Repair:
Optional Step: For optimum performance, open up the crack using a hand grinder and crack chasing diamond blade, 1/4″ wide by 1/4″ deep is sufficient. Blow out or vacuum the crack to clean out any loose debris. Oils, sealers, etc. will inhibit proper bonding of Rapid Repair. If  you choose not to chase the crack Rapid Repair can be ground off or scraped off  after initial set, usually about 20 minutes in .
Remove cap off cartridge, attach crossover restrictor to cartridge, and then screw on nozzle. While holding dispensing tool upward, place cartridge set into gun. Point nozzle upward and squeeze trigger until air and unmixed product is expelled from the static mixer. Maintain a constant flow through the mixer while the gun is pointed in the air. Product is n ow ready to be applied to the repair area. Pointing the gun upwards can cause contamination and loss of product. Watch for unmixed product during the application process, it should not be placed into repair area.
Prime the crack with Rapid Repair.
Fill the crack with dry silica sand or any other clean dry sand.
Soak sand with Rapid Repair until saturated leaving a slight hump.
Rapid Repair can be scraped or lightly sanded once it turns light grey and has reach an initial cure to achieve a finished look (15-20 minutes depending on conditions). The step is essential when a topcoat of the area is to follow.
Rapid Repair begins to set up very quickly. If allowed to sit in the mixer for more than a minute or two the mixer will become plugged. Unused product can be capped and reused as long as product that has entered the mixer has not been allowed to reenter either side of the cartridge.
Details:
Rapid set, high strength ultra low viscosity concrete repair
Repaired areas are put back in service in 10-15 minutes
Rapidly rebuilds deeply spalled or damaged concrete surfaces, broken control joints
Deeply penetrates into the concrete better than epoxy and does not become brittle
Can repair spalls of most any size at below zero temperatures
Reduces down-time
Traffic can resume in as little as 10 minutes
Can be ground smooth and become almost invisible when properly coated
Satisfied  OSHA Floor Facility safety and surface conditions for forklift operations
Reduces dropped fork truck loads
Saves bearings and wheels on electric pallet jacks and cold storage electric lifts
Increase productivity by providing smooth operating surfaces at any temperature
Set time approximately 2 to 4 minutes
Self-priming
Very high impact resistance
Builds high strength bond in minutes
Convenient 1:1 mix ratio
Highly fuel and chemical resistance
Long term durability
Meets USDA requirements
Areas of Use:
All concrete repair of spalls/damage
Rebuilding control joints, floor repair
Preparing floors for overlays
Shallow spalls on Warehouse floors and bridge decks
Spalls and crack repairs in fork lift traffic areas
Floor polishing preparation
Fill & repair spalls before coating