AstroChem® Streak-Free Plexiglass, Window & Glass Cleaner
Streak-Free & Odor Neutralizer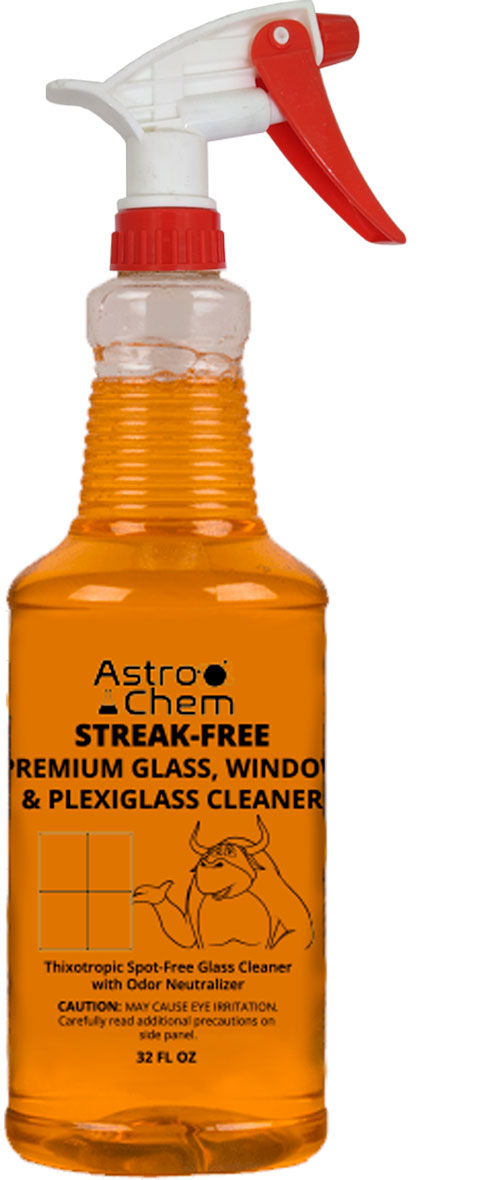 AstroChem® Premium Plexiglass, Window & Glass Cleaner is a thixotropic, spot-free,streak- free thick, clinging formula that eliminates waste and saves money. It also neutralizes and eliminates odors, leaving a pleasant citrus creme fragrance. Prevent fingerprints and smudges on mirrors, glass, windows, plexiglass and most surfaces. Ideal for vertical surfaces. Dries crystal clear even on Plexiglass, no haze, no fog…leaves Plexiglass looking new!
Thixotropic – The phenomenon exhibited by certain
gels of becoming thick when shaken and returning
to a fluid liquid upon standing.
How to Use AstroChem® Plexiglass, Window & Glass Cleaner:
Simply spray on full strength and wipe clean. It will not smear or streak and absolutely no rinsing is required. Helps prevent smears, smudges and fingerprints from reoccurring on the surface.
Details:
GEL CLINGS TO SURFACE
RESISTS FINGERPRINTS & SMUDGES
ODOR NEUTRALIZER
Thixotropic, spot-free, streak-free thick, clinging formula
Eliminates waste
Saves money
Dries crystal clear
Neutralizes & eliminates odors
Prevent fingerprints
Prevent smudges
Ideal for vertical surfaces
Works on plexiglass, mirrors, glass, windows & most surfaces
Leaves Plexiglass clear, no haze or fog
Plexiglass stays looking brand new for longer