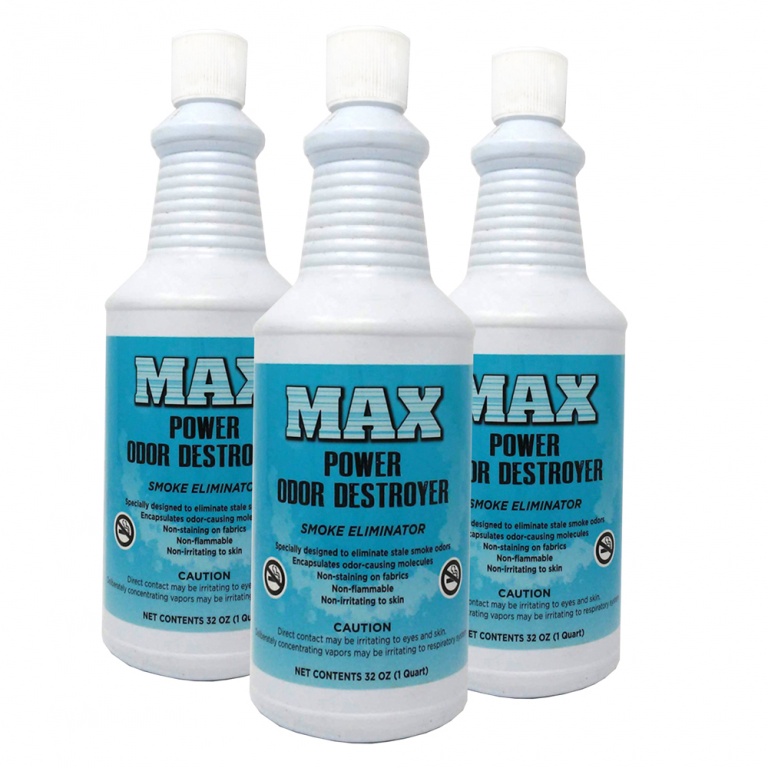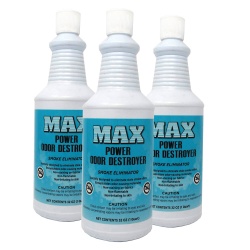 Max Power Oder Destroyer is chemically designed to eliminate smoke odors at their source. Smoke and other strong odors get trapped deep into fabrics and other textiles. Other products attempt to cover up these odors allowing the odors to resurface. Max Power Odor Destroyer is designed to penetrate the surface and attack the source to destroy it for good. Max Power Odor Destroyer is a must to remove smoke and other strong odors. Use on carpets, upholstery, drapery, clothing, furniture, linens, auto interiors and more. Max Power Odor Destroyer is perfect for use in smoking areas, in areas where a fire has occurred, and is safe on all surfaces.
How to Use Max Power Odor Destroyer:
Apply through mist-type sprayer for best results. To eliminate smoke odors from drapes, carpeting, upholstery, porous materials and other textiles, spray directly onto the surface. Always test on an  inconspicuous area for color fastness before use. Use caution when using on silk products or fabrics affected by water.
Details:
Specially designed to eliminate stale smoke odors
Encapsulates odor-causing molecules
Non-staining on fabrics
Non-flammable
Non-irritating to skin
Penetrates deep down into fabrics
Leaves a fresh, clean fragrance
Use on all smoke-damaged materials
Eliminates smoke odor at its source
Use On:
Carpets
Upholstery
Draperies
Clothing
Furniture
Linens
Auto Interiors
Use In:
Schools
Hospitals
Churches
Country Clubs
Athletic Clubs
Restaurants
Hotels / Motels
Use For:
All Textiles
Smoke Odors
Fire Odors
Stale Odors
Safe on all surfaces